The Future is Youth Activism. A conversation with youth activists on public transport
The Future is Public Transport and Buenos Aires City Hall brought together 60 youth climate activists for a hop-on-hop-off bus tour of Buenos Aires at the 2022 C40 World Mayors Summit.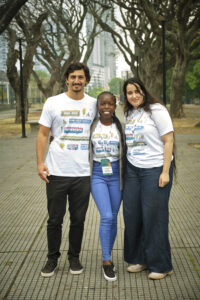 The tour, spanning across city's ecological reserve and housing renovation project, highlighted how public transport plays an integral role in connecting residents to green spaces within the city. 
Buenos Aires itself is on track to achieve a 50% emissions reduction by 2030, with a bus fleet expansion programme lying at the heart of this target. 
Representatives from the International Transport Workers Federation (ITF) discussed with youth activists how public transport can create sustainable jobs, promote equity, and ensure safe mobility for all.
By bringing public transport to the forefront of the youth climate agenda, activists will continue to call on national governments to implement measures to build sustainable cities.